Helping people achieve extraordinary things
It sounds a bit pretentious, but I really do like to take people with me on a journey, rather than simply lead them. I build trips that stretch people just enough, and enable them to achieve their goals; I put together teams that work well, and that everyone wants to be a part of; and I involve my clients in every bit of the decision-making.
You'll find no standard rates and no off-the-peg packages here - everything is bespoke. If you have a particular objective in mind, then I can help you to find a suitable team to make it possible. If you and your mates are looking for the next great adventure, then I have a lifetime of ideas to get you inspired.
Ski guiding
Of all my work, guiding on skis is the one thing I'd never want to be without. I'm at my happiest scribbling tracks on pristine slopes, away from the crowds, with a great team of skiers. From early off-piste powder forays at the start of the season through to day tours and early season touring trips, and full-blown hut-to-hut tours and ski mountaineering in the spring, I enjoy guiding teams on a variety of adventures throughout the winter.
But it doesn't have to stop there: with first ski descents in British Columbia and the Himalayas, I've enjoyed some great ski expeditions; and there's always the option of heading south to chase the snow and extend the season...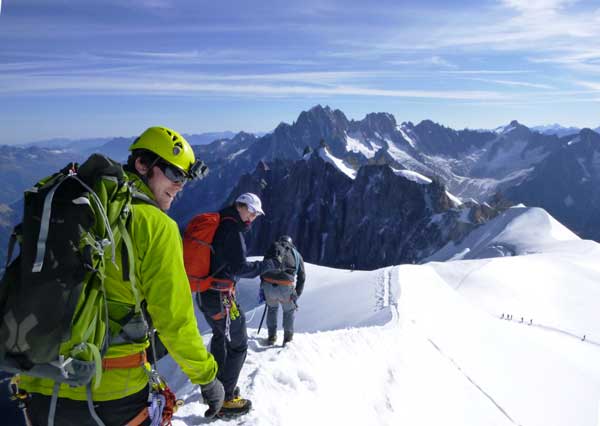 Alpine apprentices on the Midi Arête
There's a place for everyone in the mountains, from first time scrambling in Snowdonia to crisp cramponing up a glacier before dawn in the Alps. I love distilling my experience down to help you get the most from your adventure.
Tim on Dreadnought - Berry Head
From short tricky test pieces to long routes in the mountains, moving freely over rock just feels great. And you don't need to be an expert to enjoy getting stretched or inspired by a new venue, whatever your level.
Exploring the North coast of the Lleyn
I'm a leading coach educator for British Canoeing but equally happy helping novices take their first strokes on the water. Kayaking and canoeing, in all formats and disciplines, have been a consistent feature of my life.
Spike on a bike - PyB pump track
Whether leading rides on road, track or trail in Snowdonia or multi-day group rides and self contained adventures throughout the world, I'm well informed, well located, and well connected to help you find the perfect adventure on wheels.
Bespoke adventures in wild places
Whether you're looking for skills, partners or inspiration for new adventures, I can help.
An unrivalled level of expertise gained over 20+ years' experience guiding and consulting at the highest level (check out my CV for more info)
Pre-trip planning and skills training
Coaching and instruction in pursuit of independence
Tailor-made guiding on classic (and/or more esoteric) routes that provide the ideal adventure for you and your aspirations